Profile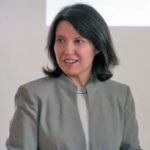 Tiziana Margaria
About Me: In short, I like problems because then we can get together, think and create and build and solve them, helping people and the environment. You can too!

Read more

I am an Electrical Engineer turned computer scientist.
Founded companies, got patents with NASA, had a lot of fun to invent solutions to old and new problems. Met amazing people in industry and research, young, medium and advanced students, lived in 4 countries and travelled the world meeting people in over 30 countries and all continents. I am a full professor of Software Systems in UL in Limerick, I work in software design, complex systems, advanced manufacturing, health and cancer research, history, AI and more. This is the almost unfair advantage of being a computer science: we are needed and welcome everywhere!

I  have 2 children, like music, and love chocolate and cinnamon. (But eat veggies and fruit!)

If I had to choose again my profession the choice is clear: Engineer!

My Work: I work with ideas and turn them into software that does things with you and for you. My projects help companies, students, doctors and nurses, programmers and some robots to be better, more helpful and adaptable if there is thinned to change. I use models that are easy to understand and to work with, so even children and people who do not program can actually build very useful and nice apps. One has gone on a satellite that is travelling in space beyond the solar system.

My Typical Day: There is no typical day, and that's really fun. Today I worked with my team to create an online course in AI. Tomorrow we run a Hackathon in History in the morning, I have lunch and the afternoon with the Confirm research centre at a VIP event on Smart manufacturing organised with the UK ambassador. Friday we telework with Norwegian colleagues of the Sirius research centre in Oslo and I will care about the ETAPS conference I organise end of April in Dun Laoghaire: lots to do there, we expect over 500 researchers from all over the world for an entire week!

What I'd do with the money: Buy some Alexas, so that we can talk to the robots I am currently working with and the robots could also talk back and tell us how they are doing.

Read more

Add voice interaction technology, for example though ALEXA, to the current remote control of collaborative robots via web, and make the "conversation" 2-way. So that also children and people with difficulty to interact via web, e.g due to disabilities, may fully experience the demos and case studies we have in Confirm and Lero. I'd also put one in the FabLab, where another robot is waiting to get started to work with people!
My Interview

How would you describe yourself in 3 words?

curious, resourceful, responsible

What's the best thing you've done in your career?

change topic and learn again: more friends, more topics, more ideas and more fun

What or who inspired you to follow your career?

nobody really, I just wanted to do something different and useful

What was your favourite subject at school?

languages

What did you want to be after you left school?

an engineer!

Were you ever in trouble at school?

yes, but I got by

If you weren't doing this job, what would you choose instead?

doctor, or detective. I am a doctor of poor systems that can't 't speak for themselves. Finding out what's wrong with them is a real detective quest!

Who is your favourite singer or band?

I liked Avicii and now

What's your favourite food?

Nutella. Also on bread.
My profile link:
https://automationm20.imanengineer.ie/profile/tizianamargaria/
---
---