Profile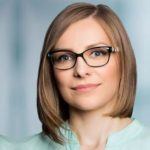 Anna Zakrzewska
Curriculum Vitae
Education:

Technical University of Denmark, Wroclaw University of Technology

Qualifications:

PhD in telecommunications, MScEng in telecommunications and computer science

Work History:

Nokia Bell Labs, NTT Communication Science Laboratories

Current Job:

Principal Engineer

Employer:

Telecom Co-Innovation Expert Centre

https://www.dell.com
About Me: I'm a telecommunications engineeri. Over the years my studies and work have brought me to many interesting places. I'm from Poland, have lived in 6 countries, and travelled to over 30. Since 2014 Dublin has been my home.

Read more

I love travelling and spending time outdoor, so I enjoy Ireland a lot thanks to fast access to both mountains and seaside. In my free time I also do various DIY projects, from sewing to furniture upgrades.

My pronouns are

she/her

My Work: I am a principal engineer at the Telecom Co-Innovation Expert Centre of Dell Technologies. I work with numerous partners to create next generation networks.

Read more

You could connect devices via fiber, or copper or don't use wires at all. I make sure that the wireless devices, like your smartphone, laptop or sensors that you may have at home, connect to the right network and provide you with a good experience. To do that, there is a lot of decisions to take on the network side, too many for any human to process fast. That's why my task is to propose solutions that help automate them.

My Typical Day: Every day is different but there are some clear patterns. The mornings I usually spend discussing the projects and challenges with my colleagues, while in the afternoon I like to do any creative work and writing (code, articles, patents). Pre-Covid there would also be many coffee breaks- these are the best for brainstorming! We try to replicate these online.

What I'd do with the money: I would ask you for good ideas on how to spend it best! For sure, I would like to support a local community centre with some equipment to enable hands on experimental experience. This way it would be open to everyone, and also last longer than just one time event.
My Interview

How would you describe yourself in 3 words?

Friendly, curious traveller.

What's the best thing you've done in your career?

For a year I worked in a telecommunications lab in Japan.

What or who inspired you to follow your career?

Radio, I remember there was a huge old radio that my grandparents bought. It has been a magic medium since I was a child.

What was your favourite subject at school?

Math.

What did you want to be after you left school?

I wanted to be a journalist but decided to study telecommunications and worked in a radio-station at my university.

Were you ever in trouble at school?

Small troubles- unavoidable :)

If you weren't doing this job, what would you choose instead?

Radio shows related to travelling.

Who is your favourite singer or band?

I like rock, so tunes of Rolling Stones, Coldplay or U2 would boost my energy.

What's your favourite food?

Number one is green tea ice cream.

What is the most fun thing you've done?

I took a helicopter flight.

If you had 3 wishes for yourself what would they be? - be honest!

Be healthy, create a teleport, clean the Earth from plastic.

Tell us a joke.

- How do trees get online? - They log in.
---
---